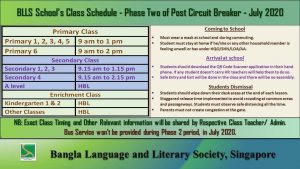 Dear Parents/Guardians,
Students from P1 to Sec 4 will attend regular classes from 4th July. Due to COVID- 19 situation students must follow some rules as safety measures.
1. Coming to School:
1.1 Must submit the online health declaration form. It will be shared every Friday in the parents/students WhatsApp group by the respective class teacher. For PR campus, a hard copy of filled our travel declaration form must need to hand over at the gate.
1.2 Must wear a mask at school and during commuting.
1.3 Student must stay at home if he/she or any other household member is feeling unwell or has under HQO/SHN/LOA/AA.
2. Arrival at school:
2.1 Students should download the QR Code Scanner application in the handphone to scan. If any student doesn't carry HP, teachers will help them to do. Safe entry and exit will be done in class and there will be no assembly.
2.2 Students who appear unwell or display flu-like symptoms will be sent home immediately with their parent's acknowledgement.
3.  During class:
3.1 Students are to wear their Face Mask by default option at all the time; however, a Face shield may be used as respite taking attached guideline.
3.2 Students should be seated according to a fixed seating plan. Students from the same school should be seated as a cluster, but with a distance of at least 1m apart. There should be at least 2m between clusters (i.e. students from different schools).
3.3 Student movement should be controlled to minimize mingling among students from different schools.
3.4 Students must observe good hygiene practice.
3.6 Staggered recess time will be followed to maintain safe distancing
4. Students Dismissal:
4.1 Students should wipe down their desk areas at the end of each lesson.
4.2 Stagger release time to avoid crowding at common areas and passageways. Students must observe safe distancing all the time.
4.3 Parents must not create congestion at the gate.
School timing:
1.     P1-P5: 9:00 am to 1:00 pm
2.     P6: 9:00 am to 2:00 pm
3.     S1-S3: 9:15 am to 1:15 pm
4.     S4: 9:15 am to 2:15 pm
Kindly take note there will be no school bus available and no bus fees will be deducted. Please make your own arrangement for transportation for your children those are using the school bus.
Parents will not be allowed to go inside the school. If any parents need to go in the office, please take an appointment beforehand by email at admin@blls.sg.
We are seeking all of your good co-operation for complete compliance of the rules and regulations set by the MoE.
For further clarification, please refer to BLLS Admin's email to Parent dated 01 July 2020.
Best regards,
BLLS Admin